move
Sometimes, all it takes to brighten your mood is the right song.
And these days, as we all continue to practice extreme social distancing in the effort to slow the spread of the global coronavirus pandemic, we can take all the mood brightening we can get. As such, we here at E! News have found us returning to music that's a surefire guarantee to turn our days around and help keep the anxious thoughts at bay.
Whether it's the complete discographies of our favorite pop divas or new releases from one of urbano latino's biggest superstars, these are the artist, albums and songs that we've kept on repeat while quarantining. And, considering there's a pretty good chance you might be looking for some tunes to help you get through all the uncertainty, we thought we'd share our most played with you.
After all, in times like these, we've got to look out for one another.
So from us to you, the music that helps us get through anything. May it provide you even an ounce of the joy and comfort it's giving us right now.
Shutterstock; Getty Images; Melissa Herwitt/E! Illustration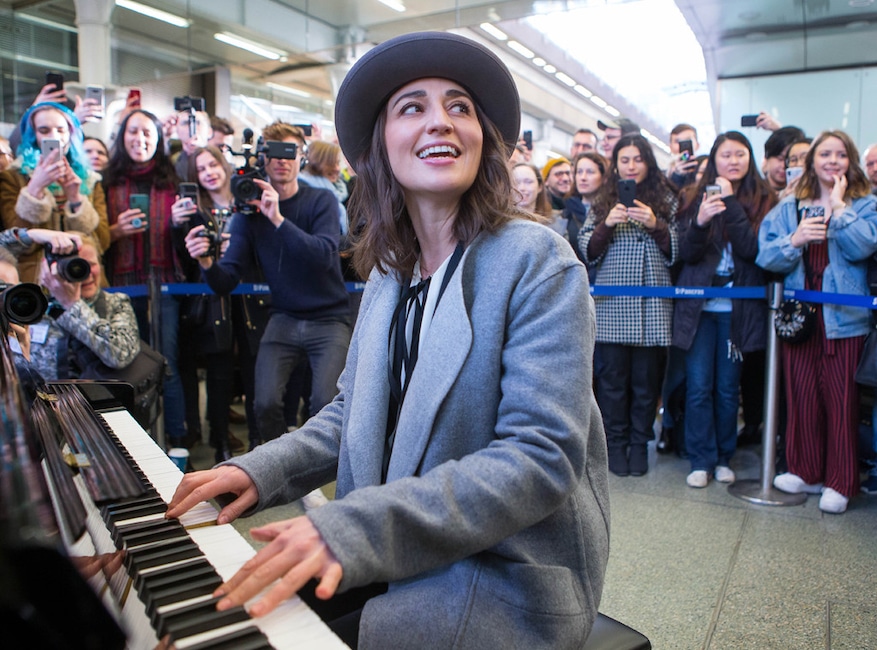 Shutterstock
Sara Bareilles

Without a doubt, the soothing sounds of Sara Bareilles have gotten me through self-isolation. Whether I'm belting "She Used to Be Mine" in the shower or forcing my cat into a "Love Song" dance party, Bareilles has been a constant in my home amid all of this. In times like these, we all need to be a little "Brave." — Alyssa Ray
I saw Waitress on Broadway three times (don't @ me) because the music penned by Sara Bareilles is simply stunning. Revisiting that feeling of seeing live theater with her album What's Inside: Songs From Waitress makes me happy, as does doing my best to get that emotional belt out for "She Used to Be Mine." The first lines from "Opening Up" also strike quite a chord for the coronavirus times:
"The day starts like the rest we've seen
Another carbon copy of an old routine
Days keep coming
One out, one in
They keep coming"
— Chris Harnick
For the latest updates on the coronavirus pandemic and for tips on how to prevent the spread of COVID-19, please visit The Center for Disease Control and Prevention at https://www.cdc.gov.